There is a situation at my house.
I went to check the freezer the other day, and was confronted by ONE, SOLITARY, MISERABLE POUND OF BUTTER.
You may be looking at me like how can you possibly be planning to use an entire pound of butter?
A statue of Benjamin Franklin made out of butter. Can you tell I've been spending a lot of time studying US History lately?
Picture courtesy of mariasols.com
Um, do you want brownies or not? I have a baking blog. I put butter in EVERYTHING. I have a screensaver that says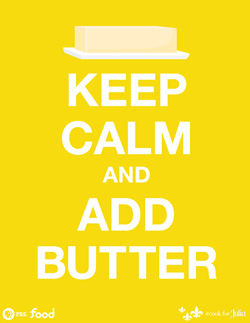 Happy people eat dessert, and if you're going to eat dessert, it had better taste good, and if it's going to taste good, you have to add butter or carcinogenic chemicals, and butter is SO much tastier and healthier than chemicals. Therefore BUTTER MAKES YOU HAPPY.
Well I AM REDUCED TO ONE DINGY POUND OF HAPPINESS!
I tell you I do not know how my kitchen arrived at this state. I am used to having I-kid-you-not
twenty
blocks of reserve butter holed up in my garage (you would be shocked at how quickly we go through it.) Usually my mom stocks up on good-quality butter when it's on sale and we stash it in the freezer for consumption by my baking fanaticism, but I guess we haven't bought any in a while and now due to my negligence our supply has run perilously low.
So I had an unfamiliar experience while preparing to make this recipe, which was calculating if I would have enough butter to make this dessert. It was an unsettling process. Butter is just one thing I don't want to have to worry about while baking. Sort of like how you don't want to wonder if you have enough toilet paper to last you until your next trip to the store.
Thankfully, this recipe only took about half a pound, and boy did it do justice to my half pound of butter! I've escaped the scourge of butterlessness for now...but still living dangerously!
Thin, Caramel-Drenched Brownies
I got this recipe (with modifications) off
CookTeen
, another teen cooking blog. The caramel really makes this recipe. I have been looking for a good caramel recipe for ice cream and apple slices for a long time, and this is my new go-to! If you like a sweet-and-salty duo, this is for you!
Ingredients
Brownie Batter
6 oz unsweetened baking chocolate (alternative: 6 tbsp butter, 18 tbsp cocoa powder)
3/4 cup butter
3 cups sugar
3 tbsp milk
3 large eggs
1 cup all-purpose flour
Salted Caramel
1 cup sugar
1/4 cup water
2 tbsp light corn syrup
3/4 cup cream
4 tbsp butter
1/2 tbsp sea salt
Directions
Brownies
0. Preheat oven to 325 degrees. Butter a baking tray about 12' x 12' (or whatever similar size happens to be convenient).
1. Melt chocolate and butter in a medium saucepan over low heat.
2. Stir in sugar. Mixture will thicken considerably; thin out with milk, one tablespoon at a time, until the mixture is easily stirred with a spoon or whisk. You may not need all the milk. Remove mixture from heat.
3. Whisk eggs in a small bowl.
4. Add eggs to the chocolate mixture a little at a time, stirring chocolate briskly to make sure the eggs do not cook.
5. Fold in flour until mixture is thickened, shiny, and homogeneous.
6. Fill greased pan with the batter; bake for 35-40 minutes, until the top of the brownies is firm and a toothpick inserted in the center emerges without raw batter attached.
Salted Caramel (can be made while brownies are baking)
1. Whisk together the sugar, water, and corn syrup in a medium saucepan.
2. Bring to a boil over low-medium heat. Let boil for 5-10 minutes until caramel becomes golden amber. Turn off the heat.
3. Stir in the cream; be VERY CAREFUL because the caramel will boil and seethe dramatically!
4. Add the butter and salt; let the butter melt and the caramel cool slightly.
5. Once brownies have come out of oven and cooled slightly, pour the caramel over the top of the brownies, covering completely, poking brownies with a toothpick if you want the caramel to penetrate some. For the best result, let the dessert sit for at least half an hour to let the caramel set. If you absolutely can't resist the combined smells of caramel and chocolate, take advantage of the heat to serve with some melting ice cream!
I realized while taking this picture that this must be about the fourth identical picture of a melted chocolate mixture sitting in this pot on this stove that I have posted to this blog.
This is what my chocolate-sugar mixture looked like before I added the milk. I knew there was no way I was going to be able to mix in the eggs quickly so I thinned it out some.
As you can see, the consistency should be a little more liquid.
The mixture becomes a little more elegant-looking after the eggs go it.
The final batter, flour included, in a BUTTERED pyrex pan.
My brownies were about an inch and a half thick when I put them in the oven. You might have to adjust baking time for how thick your batter ends up being.
Soon after my water and sugar started boiling, it went through a really foamy, bubbly phase
Once that clears up your caramel will eventually start browning
I decided it was done when I started getting that ominous black portion forming on the right
I'm sorry I didn't get any pictures of the cream boiling :( I was too busy protecting my forearms. If you really feel jipped of the action, it pretty much looked like what happened when I mixed cream into caramel for my almond custard tart.
My final caramel. I got this hard conglomeration on the end of my whisk that didn't really dissolve and tasted really salty. Maybe some of the caramel congealed around the salt crystals? Whatever, the important part is that the caramel was DELICIOUS.


After the caramel set a little

It dripped down around the sides of the pan...yum

It stayed on top of the brownies pretty well after it set, too!